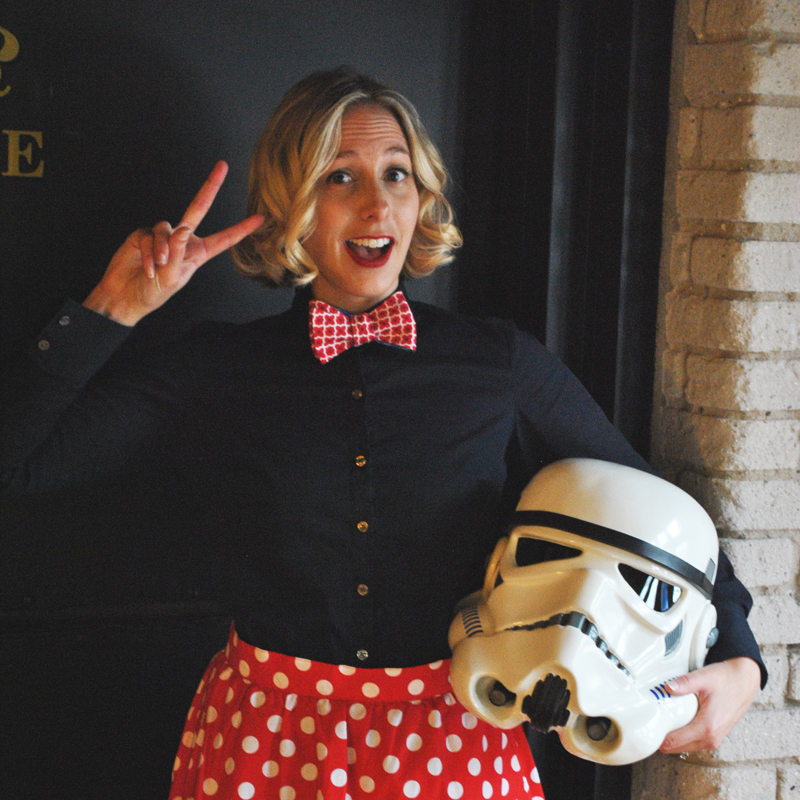 Creator Focus—Ashley Hay
This week's Creator Focus is on designer and illustrator, Ashley Hay. Ashley and I have been friends for years and when I thought about highlighting creators that inspire me, she was the first one that came to mind. I've been lucky to collaborate with her on a few projects in the past, but not nearly enough as I'd like. Plus she lives in Minnesota which, now that Prince is no longer with us, makes her about the only reason I'd visit Minnesota. Because cold.
Let's get the basics out of the way.
1. Tell me about your background.
I was born and raised in the Midwest and hail from German and Scottish descent. I've always loved making art. From coloring in work sheets in elementary to taking all the art classes in high school.
2. What made you want to get into design?
I knew I wanted to do something in the arts for my career but didn't want to go the fine arts route. My mom found graphic design, we researched it and that's what I went to college for. I've been designing web, print, and apparel ever since.
3. What are some of your favorite projects you've been able to work on?
I have licensed shirts for Star Wars, Marvel, and Cartoon Network. I am really proud of that and they were fun to design. Other projects I've liked working on would be responsive webs design for 3M and Febreze/Bissell. They were challenging in very different ways but turned out looking clean and had a much improved user interface.
4. What inspires you?
Oh geez, so many things. Clever packaging is a big one. I decorate my house in screen prints, comics, and vinyl figures to help inspire me as well. Visiting antique shops always gives me a good boost of design juices too.
5. When the "designer's block" hits you, where do you find inspiration/how do you generate ideas?
I find that when I get designer's block it's my mind telling me I need a break. I'll play a videogame or go for a nice long walk with my dog. Exercise or even taking a long shower or bath can help clear my mind and relax long enough to help bring those ideas flowing again.
6. What's one piece of advice you would go back and give your younger self?
I think I did a lot of the right things after college like networking and taking chances that would help my career. I would maybe say don't expect too much from college and just jump through the hoops. The real learning happens in the field so don't worry about some of your inept teachers in college.
7. What kinds of projects are you working on now?
I work for a digital agency that is rebranding so I've been helping with that as well as web design client work for large fortune 500 companies.
8. What about personal projects?
I'm planning on creating Nerd Scout Badges. They will be small patches that resemble what a boy or girl would get in the scouts but have a nerd theme. Enamel pins are really popular now but I think patches will have a come back.
I also have podcast called Babes of Wonderland with my friend, Laurel. We not only review a Disney movie each episode, we bring in the history of it and expound on themes from the movie. The blog for it covers tons of Disney related goodness as well.
And now the fun stuff.
Top three Coen Brothers films.
Fargo (duh, the TV series is great too!)
No Country for Old Men
The Big Lebowski
Who's your favorite Transformer?
Bumblebee! Transformers 2 was so dumb that he wouldn't take him to college. When you have a transformer it goes everywhere with you. Transformer > College
What's the one Twitter account that everyone should be following?
@micarina_sweets They make the most beautiful cookies I've ever seen and sometimes you need to break up the terrible political news these days with some pretty pastries.
---
Thanks again to Ashley for being my guinea pig on this first edition of Creator Focus. If you know of anyone you'd like to see interviewed here, hit me up on Twitter with suggestions!
For more about Ashley, find her online